Welcome to Battery Park City
Overview
Park City River views and river life are the big draws for seekers of Battery Park City apartments. Because the land is technically owned by the Battery Park City Authority, a public entity, residents of these downtown condos don't pay taxes, they pay PILOT — Payments in Lieu of Taxes — which help maintain the glorious esplanade which is Battery Park City's crown jewel. The beautiful ribbon runs for 1.2 miles, linking together a string of parks, and many of Battery Park City's condos look out on these wonderful bits of green to the Hudson. Strolling, rollerblading, biking – or just catching a spectacular sunset or a close-up of the Statue of Liberty — they're all perks attached to this wonderful downtown real estate.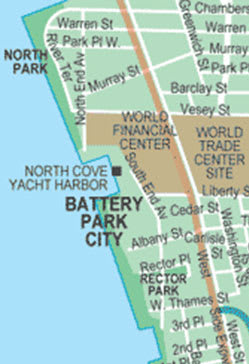 The neighborhood, built on the Southwest tip of Manhattan, is both quiet and convenient. It offers luxury apartment living that seems almost suburban, but the area is near Wall Street for work and lively Tribeca for play. Riverhouse, one of the newest condominiums, offers twice-filtered air and filtered water — meeting an environmental standard for green living first set by the Solaire, a Battery Park City rental building that is the nation's first environmentally-conscious high rise. A new Whole Foods and Barnes and Noble provide great shopping, while the Liberty Park greenmarket lets you get the best and freshest New York City to produce, some of it from family farms. There's also an 11-screen movie theater that screens both popular favorites and hosts part of the world-famous Tribeca Film Festival.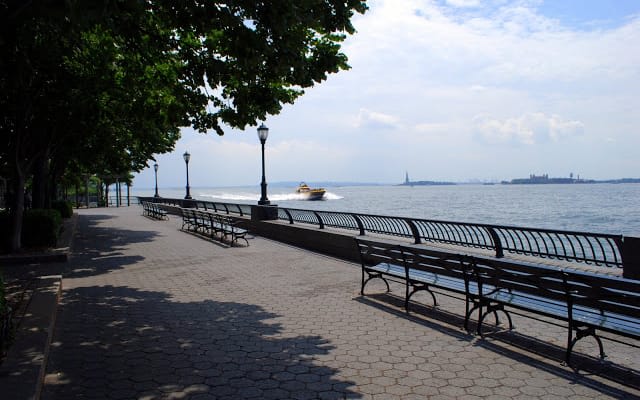 Boundaries
Downtown on the West Side, between the Hudson River on the West and the West Side Highway on the East, and between Chambers Street on the North and Battery Park on the South.
Subway Stations
A, C, J, M, Z, 2, 3, 4, 5 to Fulton St. | 4, 5 to Bowling Green | 1, 9 to Rector St. |
1, 2, 3, 9 to Chambers St.
Schools
High School Of Economics And Finance
Leadership And Public Service High School
John V Lindsay Wildcat Academy
Millennium High School
Stuyvesant High School
PS 89
Claremont Preparatory School
Attractions
Battery Park
City Hall
Ellis Island Immigration Museum
Ground Zero
Museum of Jewish Heritage
National Museum of the American Indian
Rector Park
Shearwater Sailing
The Skyscraper Museum
South Street Seaport
Statue of Liberty