Welcome to Flatiron
Overview
Take a pretty little park, a bustling green market, and some fashionable shops, and you have a perfect recipe for Flatiron, one of New York City's hottest neighborhoods for co-ops and condos.
The center of the Flatiron District, and where the neighborhood takes its name, is the triangular turn-of-the-century building at Fifth Avenue and 23rd Street. The Met Life building, with its distinctive clock tower, is another notable historic skyscraper. In addition, there are new luxury condo buildings like One Madison Park and 240 Park Avenue South, which boasts a sauna and massage rooms in addition to the standard doorman and fitness center.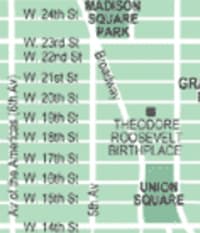 But the Flatiron neighborhood isn't just about the new. High-ceilinged lofts, many with modern chef's kitchens and other designer features, often lie behind the facades of low-slung industrial buildings. Prewar co-op apartments are in Flatiron too, some on quiet blocks which serve as a refuge from the city but boast great designer shopping just around the corner. Pet owners should check out the dog run at Madison Square Park, which has a long and colorful history it's where the torch of the Statue of Liberty was displayed for years.
If you're a cook, an apartment in the Flatiron area is tough to beat, with access to Trader Joe's near Union Square, a large and bustling Whole Foods Market, and, in season, the Union Square Greenmarket, where you can purchase flavorful produce from all over New York State. When you want time off from the kitchen, world-class restaurants like Gramercy Tavern and Union Square Cafe are right here at your doorstep.
Boundaries
From 14th Street on the south to 24th Street on the north, and between the Avenue of the Americas (Sixth Avenue) to the west and Park Avenue South to the east.
Subway Stations
4, 5, 6, L, N, Q, R to 14th St.-Union Sq. | F, V to 23rd St. | N, R, W to 23rd St. | 6 to 23rd
Schools
47 The American Sign Language And English Lower School
J.H.S. 104 Simon Baruch
School Of The Future High School
American Sign Language & English Secondary School
Baruch College Campus High School
Bruch High School
Manhattan Village Academy
British International School Of Ny
United Nations International School
Epiphany Elementary School
Attractions
Flatiron Building
Gramercy Park
Madison Square Park
National Arts Club
Union Square