Welcome to Roosevelt Island
Overview
If you love convenience and quiet, you can't do better than Roosevelt Island, a serene oasis with lots of green and breathtaking views of the Manhattan skyline. Luxury doorman condos in high-rise buildings dot the south side of Roosevelt Island, which is a long, thin sliver in the East River just 700 feet from Manhattan island proper. The amenities of these modern condos include conference rooms, roof decks, and health clubs with yoga rooms. Moving towards the north of Roosevelt Island, there are a handful of rental buildings with offerings ranging from studios to three bedrooms. Many of the apartment buildings have their own playgrounds or gardens, and best of all, there's a local shuttle bus to help you tool around Roosevelt Island itself.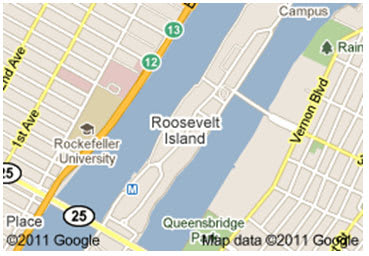 Yet much of Roosevelt Island remains car-free, which makes the area clean and green. With its slight removal and its reputation for safety, Roosevelt Island functions as a bedroom community, providing apartments for those whose jobs are on the East Side or Upper East Side, which can be reached by the popular Roosevelt Island Tram or a quick subway ride.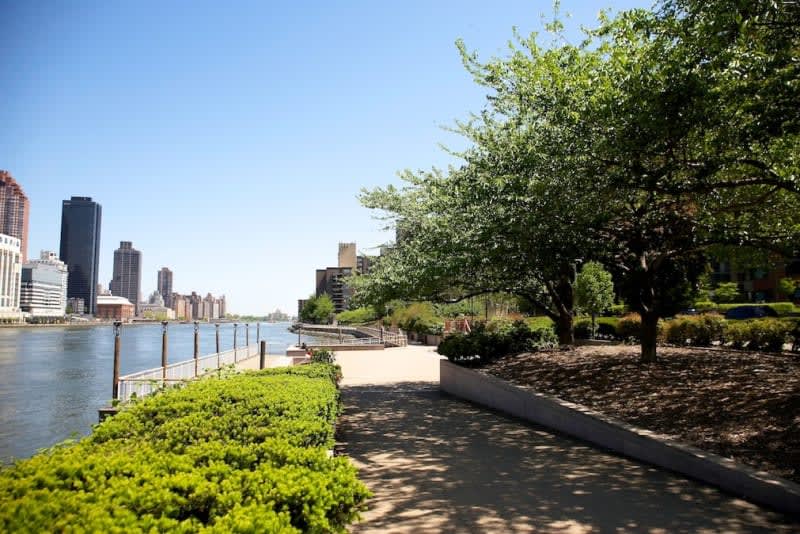 While Roosevelt Island has always been self-sufficient as far as retail, with its own restaurants, dry cleaner, and grocery store, the new condos on Roosevelt Island have brought in new stores, including a Starbucks coffee.
But it's the great outdoors which is one of Roosevelt Island's biggest draws. With spacious parks, promenades for biking and running, playgrounds, ball fields, and a racquet club, you would never guess you were in New York City except for the sweeping views of the East Side, including the United Nations, the Chrysler Building, and the 59th Street Bridge.
Boundaries
A two-mile island in the East River running from Manhattan's East 46th to 85th Streets.
Subway Stations
F to Roosevelt Island
Schools
P.S. Is 217 Roosevelt Island
The Child School
Attractions